Welcome to Allen Veterinary Hospital
Pet Emergency? Call us right away at 972-727-8383!
Inflation:
This year we have seen a large increase in our products due to supply chain issues. We have received multiple letters throughout December 2021 preparing us of these increases. We have no choice but to increase our costs to continue to provide the best possible care for your beloved pets. Sorry for any inconvenience this may cause you as pet owners. Price increase will go in to effect January 2022.

Covid19 policy:
Please come inside and check in for your appointment. You may then choose to wait in your car or in the lobby. A Technician will call you when your exam room is available. We ask that you limit the amount of family members you bring with you to our hospital (our ideal situation would be 1 owner per pet). We are cleaning/disinfecting rooms and lobby multiple times a day for yours and our staffs safety.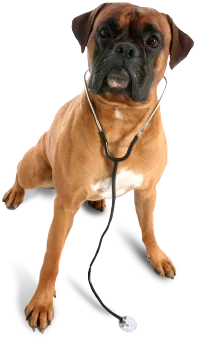 If you live in Allen or the surrounding area and need a trusted veterinarian to care for your pets – look no further. Our doctors are licensed TX veterinarians, treating all types of pets. Your pets' health and wellbeing are very important to us, and we take every possible measure to give your animals the care they deserve.
Allen Veterinary Hospital is a full-service animal hospital and welcomes both emergency treatment cases as well as pet patients in need of routine medical, surgical, and dental care. Our doctors have years of experience treating serious conditions and offering regular pet wellness care. Beyond first-rate pet care, we make our clinic comfortable, kid-friendly, and calm, so your pet can relax in the waiting room and look forward to meeting our Allen veterinarian.
We are happy to offer a number of resources that enable you to learn about how to take better care of your pets. Please feel free to browse our site, particularly the informational articles. The best veterinary care for animals is ongoing nutrition and problem prevention, so becoming knowledgeable about preventative pet care is essential to the ongoing success of your animal's health. If you have any questions, call (972) 727-8383 or email us and we'll promptly get back to you. Our Allen veterinarian office is very easy to get to -- just check out the map below! We also welcome you to subscribe to our newsletter, which is created especially for Allen pet owners.
About Our Company
Allen Veterinary Hospital opened its doors in January, 1986. Dr. Mike Overton founded the hospital in order to meet the small animal needs of Allen, Texas. Dr. Alan Coffman, a 16 year employee of the hospital, purchased the practice upon Dr. Overton's retirement in 2010, in order to continue exceptional service and reputation of Allen Veterinary Hosptial. Since then, it has grown to include three full-time veterinarians, one consultant veterinarian, and a staff of more than 24. We treat all sorts of companion animals with special emphasis in dogs and cats. Two clinic cats roam the premises making sure that everyone feels at home, kept company by five birds, one ferret (Sid), and an aquarium full of fish.
Allen Veterinary Hospital has been awarded The People's Choice Award for Best Veterinary Practice in Collin County every year beginning from 2010, a proud streak that we don't want to have end. Dr. Alan Coffman was recognized by The Texas Animal Control Association and received the W.R. Bilderback, DVM Award for rendering outstanding service to the animal control profession for the state of Texas.
Allen Veterinary Hospital is a proud sponsor of Allen Eagles High School (football, baseball, basketball, golf, performing arts). They are also sponsors of the Allen Americans hockey team, 2012-13, 2013-14 Presidents Cup Champions and 2014-15, 2015-16 Kelly Cup Champions!
At Allen Veterinary Hospital, we treat your pets like the valued family members they are.
Allen Veterinary Hospital | (972) 727-8383
803 E Main St Ste. A
Allen, TX 75002